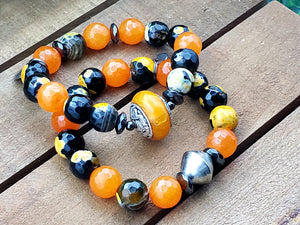 Featuring Brings Joy Bracelet Set.

This beautiful beaded stretch bracelet with a GORGEOUS High quality Antique Silver Faux Amber Nepalese  and Ethiopian Metal Saucer 

focal

centerpiece surrounded by Round Faceted Agate and Fire Agate Stones, Gunmetal Hematite Accents.
These are
Perfect
worn together. 
This unique design is just HAUTE!  See yourself wearing these!! 

Handcrafted for the jewelry lover in mind!! Get yours today and make a statement!!
Fits Up to 7.5" Wrists (Average)


Faux Amber & Ethiopian Metal Saucer - 15 mm & CZ 13 mm Focals

12 mm Stones

Agate, Fire Agate, Hematite Accents

Stretch Bracelet

Handcrafted item

Semi-Precious Stones (High Quality)

Made for HER

*Please note:  The pattern varies, making each pair unique.

"brand": { "@type": "Thing", "name": "Pat Lewis Designs" }, "offers": [{ "@type" : "Offer","availability" : "http://schema.org/InStock", "price" : 62.88, "priceCurrency" : "USD", "url" : "https:\/\/patlewis-designs.com\/products\/brings-joy-bracelet-set?variant=41592491606171" } ] }