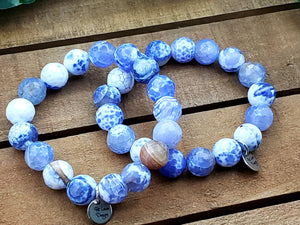 Featuring Grounded & Protected  - Layers - Bracelet Set.

This beautiful beaded stretch bracelet with a GORGEOUS High quality Layered with Blue Fire Agate Stones

.
These are
Perfect
worn together. 
This unique design is just HAUTE!  See yourself wearing these!! 

Handcrafted for the jewelry lover in mind!! Get yours today and make a statement!!
Fits Up to 7.5" Wrists (Average)


12 mm Stones

Stretch Bracelet


Handcrafted item

Semi-Precious Stones (High Quality)

Made for HER

*Please note:  The pattern varies, making each pair unique.

Shipping
Please allow up to 3-5 Business Days for this handcrafted product.


Returns & exchanges
Due to the nature of this product, we do not accept returns, exchanges, cancellations, or store credit.

Please contact us if you have any problems with your order.

"brand": { "@type": "Thing", "name": "Pat Lewis Designs" }, "offers": [{ "@type" : "Offer","availability" : "http://schema.org/InStock", "price" : 53.92, "priceCurrency" : "USD", "url" : "https:\/\/patlewis-designs.com\/products\/grounded-protected-layers-bracelet-set?variant=41592614289563" } ] }