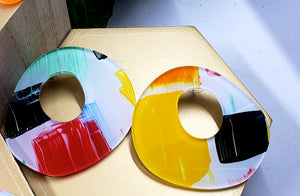 These Hand Painted Abstract Hoop Studs Another Version #2 add personality and unique style to any look. Every pair is carefully hand painted to create a one-of-a-kind design, perfect for expressing yourself.
This is a unique design AND YOU CAN'T FIND THESE IN THE STORE!  See yourself wearing these!! 

Handcrafted for the earring lover in mind!! Get your pair today and make a statement!!
1/8" Designer Acrylic

Hand Painted

2.13" Width

2.33" Height

Stainless Steel Ear Posts


Nickel Free Findings




Handcrafted item

Made for Her
*Please note:  The pattern varies, making each pair unique.

"brand": { "@type": "Thing", "name": "Pat Lewis Designs" }, "offers": [{ "@type" : "Offer","availability" : "http://schema.org/InStock", "price" : 34.72, "priceCurrency" : "USD", "url" : "https:\/\/patlewis-designs.com\/products\/hand-painted-abstract-hoop-studs-another-version-2?variant=43574864281755" } ] }