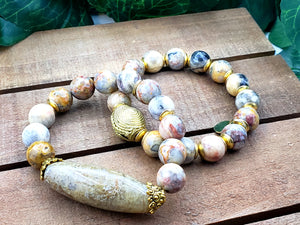 Featuring My Heritage Bracelet Set.

This beautiful beaded stretch bracelet with a GORGEOUS High quality Agate

Stone and Brass

focal

centerpieces surrounded by Round Smooth Stones, and Brass Accents.
These are
Perfect
worn together. 
This unique design is just HAUTE!  See yourself wearing these!! 

Handcrafted for the jewelry lover in mind!! Get yours today and make a statement!!
Fits Up to 7.5" Wrists (Average)


Agate - 46 mm and 20 mm Focals

12 mm Stones

Dark Gold Accents

Stretch Bracelet

Handcrafted item

Semi-Precious Stones (High Quality)

Made for HER

*Please note:  The pattern varies, making each pair unique.

Shipping
Please allow up to 3-5 Business Days for this handcrafted product.


Returns & exchanges
Due to the nature of this product, we do not accept returns, exchanges, cancellations, or store credit.

Please contact us if you have any problems with your order.

"brand": { "@type": "Thing", "name": "Pat Lewis Designs" }, "offers": [{ "@type" : "Offer","availability" : "http://schema.org/OutOfStock", "price" : 94.32, "priceCurrency" : "USD", "url" : "https:\/\/patlewis-designs.com\/products\/my-heritage-bracelet-set?variant=41592370069659" } ] }